Freedom of Expression,
Freedom of Marriage
The Religion eZine - Weddings
---
This Website is Best Viewed Using Firefox
Massachusetts first States in U.S.A. to let same-sex couples wed
BOSTON - Elated and in some cases incredulous at making history, gays and lesbians by the dozens exchanged vows and were pronounced "partners for life" yesterday as Massachusetts became the first U.S. state to let same-sex couples marry.
The nuptials ranged from quick city hall ceremonies to ornate weddings in downtown Boston churches, complete with champagne and fancy cakes. "When everybody wakes up tomorrow and sees nothing bad happened — it's the same world it was the day before, there are only more people that are equal to them — they're going to see there was nothing to fear," Sheldon Goldstein said after obtaining a marriage licence.
Fewer than a half-dozen countries, including Canada, allow same-sex couples to marry.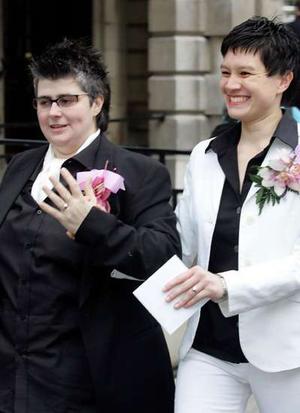 Only a few protesters bothered to show up in Massachusetts, but some conservative leaders expressed outrage and U.S. President George W. Bush renewed his call for a constitutional amendment banning gay marriages nationwide.
For all the jubilation, the hundreds of couples who received licences still confront uncertainty. Massachusetts lawmakers have taken steps toward letting voters decide in 2006 whether to ban same-sex marriages and instead define such partnerships as civil unions. And even though the proposed federal amendment is considered a long shot, many states are trying to ensure — in the face of expected lawsuits — that they won't have to recognize gay marriages from other states.
Among the first to marry, under a rainbow flag at a Boston church with the Boston Gay Men's Chorus, were Robert Compton and David Wilson. They were one of the seven couples whose lawsuit prompted the state high court to rule in favour of gay marriage in its landmark November decision.
Compton called it "a journey that seems like a million miles with a million speed bumps."
The decision by the Supreme Judicial Court prompted months of bitter debate in the Massachusetts legislature and in statehouses across the U.S., spilling into the presidential race. Bush and Democratic candidate John Kerry of Massachusetts both oppose gay marriage, but Kerry supports civil unions.
On Boston's Beacon Hill, Julie and Hillary Goodridge — the lead plaintiffs in the landmark lawsuit — were married by a Unitarian Universalist minister in the presence of ecstatic supporters and their 8-year-old daughter, Annie, who served as ring-bearer and flower girl.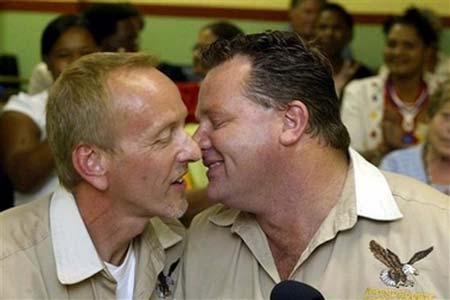 U.S. celebrates first gay marriages
CAMBRIDGE, Mass. — Gay couples around Massachusetts began exchanging vows today, marking the first time a state has granted gays and lesbians the right to marry and making the United States one of a handful of countries around the world where homosexuals can legally wed.
Tanya McCloskey, 52 and Marcia Kadish, 56, of Malden, went at a breakneck pace to fill out paperwork, get a waiver from the usual three-day waiting period, then return to city hall - where they got their marriage licence and exchanged vows.
At 9:15 a.m., Cambridge City Clerk Margaret Drury told the couple: "I now pronounce you married under the laws of the Commonwealth of Massachusetts."
It was among the first — if not the first — of a series of same-sex weddings anticipated to take place throughout the state on Monday, the day that under a court order same-sex couples could wed.
"It was really important to us to just be married. We want to be married as soon as we possibly can. Part of it is, we don't know what the legislature is going to do," McCloskey said.
At the stroke of midnight, Cambridge officials threw open their doors to couples wishing to fill out marriage licence applications. Within hours, judges began issuing waivers to the usual three-day waiting period.
Among those with wedding plans were the seven couples who brought the lawsuit that eventually led the state's highest court to declare gay marriage legal, breaking a barrier many never believed would fall and putting the United States among four countries where gays can marry.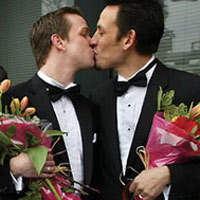 As of today, Massachusetts joins Ontario, British Columbia and Quebec, along with the Netherlands and Belgium, as the only places worldwide where homosexuals can marry.
Toronto, the first jurisdiction in Canada to issue licences to same-sex couples, has handed out more than 1,000 since it began doing so last June.
Later this year, the Supreme Court of Canada will look at the constitutionality of gay marriage. Prime Minister Paul Martin has promised to introduce a bill to legalize it.
The moves in Massachusetts came against the backdrop of scattered protests but a largely festive party atmosphere.
"I'm proud of this state," said John Meuneir, 43, of Boston, who arrived at City Hall in Boston with his partner, Jim Flanagan, 42, more than two hours before the scheduled 8 a.m opening.
In Cambridge, more than 260 couples filled out application forms for marriage licences in the wee hours. A throng that police estimated was more than 5,000 people converged on City Hall, including some heterosexuals there to witness history in the making.
Massachusetts was thrust into the centre of a nationwide debate on gay marriage when the state's Supreme Judicial Court issued its narrow 4-3 ruling in November that gays and lesbians had a right under the state constitution to wed.
In the days leading up to Monday's deadline for same-sex weddings to begin, opponents looked to the federal courts for help in overturning the Supreme Judicial Court's ruling. On Friday, the U.S. Supreme Court declined to intervene.
The SJC's ruling touched off a frenzy of gay marriages across the United States earlier this year, emboldening officials in San Francisco, upstate New York and Portland, Ore., to issue marriage licences as acts of civil disobedience. Even though courts ordered a halt to the wedding march, opponents pushed for a federal constitutional ban on gay marriage, which President George W. Bush has endorsed.
The SJC's ruling also galvanized opponents of gay marriage in Massachusetts, prompting lawmakers in this heavily Democratic, Roman Catholic state to adopt a state constitutional amendment that would ban same-sex marriage but legalize Vermont-style civil unions. The earliest it could wind up on the ballot is 2006 — possibly casting a shadow on the legality of perhaps thousands of gay marriages that take place in the intervening years.
The city of Cambridge, a liberal bastion that is home to Harvard University and the Massachusetts Institute of Technology, opened its doors to couples at midnight, and remained open until about 4:30 a.m. to accommodate the people who flocked there to make history.
The first couple to receive marriage paperwork was Marcia Hams, 56, and her partner, Susan Shepherd, 52, of Cambridge. After 27 years together, they sat at a table across from a city official shortly after midnight, filling out forms as their adult son looked on.
About 15 protesters, most from Topeka, Kan.-based Westboro Baptist Church, stood near City Hall carrying signs. The group, led by Rev. Fred Phelps Sr., travels around the country protesting homosexuality.
Out-of-state gay couples are likely to challenge Massachusetts' 1913 marriage statute, which bars out-of-state couples from marrying in Massachusetts if the union would be illegal in their home state. Gov. Mitt Romney, a gay-marriage opponent, has said the law will be enforced and clerks who give licences to nonresidents may face legal implications.
Still, officials in Provincetown, Worcester and Somerville have said they will not enforce Romney's order and will give licences to any couples who ask, as long as they sign the customary affidavit attesting that they know of no impediment to their marriage.
Sure enough, Chris McCary, 43, and his partner of six years, John Sullivan, 37, of Anniston, Ala., were first in line outside town hall in Provincetown on Monday morning.
"This is the most important day of my life," said McCary.
Both sides in the debate say the issue may figure prominently in the November elections across the country.
Married couples are entitled to hundreds of right and protections under Massachusetts law, including the ability to file joint state tax returns, automatic preference for making medical decisions for a disabled spouse and workers' compensation benefits. But other rights, such as the ability to jointly file a federal tax return, are not available because federal law defines marriage as between a man and a woman.